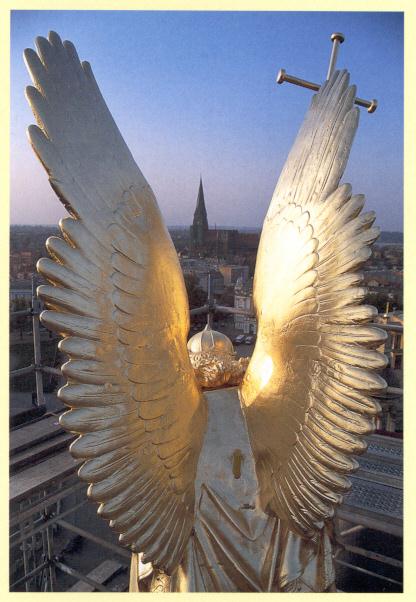 An angel:
Xmas decoration or powerful being of the spirit? The Bible calls three angels (from the Greek "angelos", literally translated: messenger) by name: Michael, Raphael and Gabriel. Everyone of these names stands for a programme - nomen est omen! The letters "el" stand each time for God. The Hebrew name Micha-el means: "Who is like the Lord?", the name Rapha-el: "The Lord cures", and Gabri-el: "Man with the Lord".
When I get visitors in Schwerin, I often rave about the redesigned city centre, the lakes, and the castle. The angel at the picture stands as figure on top of the castle above the figure of the horseman. Micha-el is his name: "Who is like the Lord?". While we often believe, that man can reach everything, an question that shakes up. May the angel remind the government in the castle and elsewhere to have a sure eye by their decisions.
Who does watch more closely, will discover a bonnet, a headgear. Who has a look at the original, will see the angel wearing an armour.
As written in chapter 12 of the Revelation, archangel Michael is standing above an Dragon (representing the evil) and kills it. Michael - the messenger of the Lord - tells us:
"Finally the good, the Lord will win!"
The partly covered Cross symbolizes the power of Jesus, who defeated the evil with his death on the cross.
A second we can recognize on the picture - the Dom. Like the archangel Michael as messenger of the Lord served, are we - as Christians of this town - called to proclaim the believe in Jesus Christ as the Son of the Lord in this town. The Dom is here the illustration of the people of the Lord, who gather to confess the believe in God. A believe grounded in the hope that man will have a future, and we can join in with Dietrich Bonhoeffer:
"From well meaning forces wonderfully sheltered, we await safely what will happen..."
Yours Hans Clausen (translation C. Türk)
---
Links to the churches of Schwerin (German only):
Further links with information about and photos of Schwerin (German only):